Pathfinder Godsmouth Heresy Post-Mortem: Package of Double Stuf Oreos Takes 10d10 Damage
Hi everyone,
Great job on completing the Godsmouth Ossuary! I hope everyone had a good time despite the loooooooong length.
First:
These were the main complaints I got:
– Monsters were a bit too easy
– Length
I'll work on both of those for the next module. Next time we'll put 5-6 hours as a cutoff point. Another complaint was that people kinda spent a lot of time acting OOC and getting tied in knots on combat/exploration decisions which is fine up to a point, but it tied into the length complaint.
People really liked the challenges and not the spot XP system (get a stone for every passed skill check) so much, so I'll definitely continue the former and discontinue the latter.
Second:
Here is the full list of stuff you guys found sans pure treasure/gold items (blue means it was magic, the unidentified forms are in red):
– cloak of resistance +1 (a silky, grey cloak)
– phylactery of faithfulness (an odd leather headband with a tiny wooden box inset in the middle)
– bracers of armor +1 (iron bracers curiously free of rust)
– Sihedron medallion (a seven-pointed star medallion)
– set of masterwork banded mail
– masterwork bastard sword
– 2 curved daggers
– stone tablet of Identify (a tablet that reads EVAD TNEMGDUJ)
– stone tablet of Hold Portal (a tablet that reads DLEIFRAG)
– stone tablet of Remove Disease (a tablet that reads AKUSA)
– stone tablet of Shatter (a tablet that reads GOOBLE GOBBLE)
– 2 scrolls of Delay Poison (a scroll that reads EM DAER)
– feather token (feather) (a green feather)
– feather token (whip) (a red feather)
– scroll of Remove Paralysis (scroll of FOOBIE BLETCH)
– bag of tarnished silver powder (worth 1 GP)
– a potion of love (a pink potion that tastes like strawberries and cream)
– a potion of Eagle's Splendor (a clear, brown potion with white specks that tastes like old licorice)
– masterwork ranseur
– half-plate armor inscribed with the Rune of Wrath (cosmetic)
– 2 potions of Hide from Undead (a milky potion that tastes of chalk)
– wand of Disrupt Undead (a wand made of segmented animal bones)
– 2 potions of Cure Light Wounds (clear green potion that tastes like lime)
– 2 potions of Enlarge Person (dark red potion that has a slight fishy taste)
– wand of Command Undead  (wand made of black iron)
– 1 flask of acid
– 2 flasks of alchemist's fire
– 2 smokesticks
– 1 tanglefoot bag
– 1 thunderstone
– a set of masterwork studded leather
– a +1 spear
– an alchemist's kit
– a set of masterwork embalming tools
– an alchemist's formula book
– thieves' tools
– a scroll of Ghoul Touch (a scroll of SALADBWL)
– a scroll of Mage Armor (a scroll of GUFF)
Third:
Here are the full lists of challenges: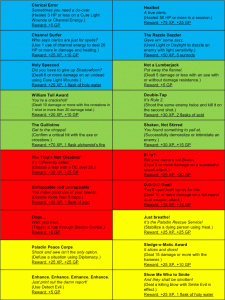 Like I said, people liked these a lot, so I'll definitely make more next module… and I just realized that I missed a golden opportunity to have a skeleton-centric challenge called 'Charnel Knowledge.' Dammit!
Fourth:
Here are the Pharasma encounter cards. Initially, the one statue in the Cathedral was only supposed to give you an Aid spell, but I thought that was kind of boring so I changed it into more of a meeting with Pharasma to add drama to the Esme encounter.
Fifth:
Rather than a synopsis of the entire module, because that would take a while to write, here's a list of the encounters you had instead:
Encounter 11: 4 skeleton archers
Encounter 12: 3 crawling hands
Encounter 13: brown mold
Encounter 14: Erdikhaan (skeletal champion of Wrath)
Encounter 15: lemure
Encounter 16: 2 ghouls
Encounter 17: bloody skeleton
Encounter 18: 2 tengus (negotiated)
Encounter 19: lustspawn
Encounter 20: gasburst zombie
Encounter 21: alchemical skeleton and alchemical zombie
Encounter 22: Svilennius Tripe, Mr. Morrow, vat zombie
Encounter 23: Esme and her 2 skeletal handmaidens (Lulu and Fiona)
Encounter 24: 4 alchemical skeletons
Finally:
Please update your DNDsheets. I'd like to see what new stuff you get and it helps me make challenges. See you all next time!